With or without appointment, no waiting!
« BECAUSE YOUR SAFETY AND HEALTH IS OUR TOP PRIORITY. »
In order to comply with COVID 19 standards, we are open


ONLY BY APPOINTMENT, EXCEPT FOR REPAIRS.
Make an appointment >>
or by phone: 02/736.00.04
Take care of yourself, your family and friends.
The Monsieur Pneus team
Scroll To Top
MONSIEUR PNEUS, THE PARTNER YOU CAN TRUST
Monsieur Pneus, the trusted partner approved by all leasing companies.
Family business since 1955
2 ideal locations
30 employees ready to help you
24 workstations in Brussels and 6 workstations in Genval, always there to help you
A vast 7,000 m2 storage area (new tyres and customer tyres)
Over 10,000 fleet vehicles currently being monitored
Customer waiting area with Wi-Fi access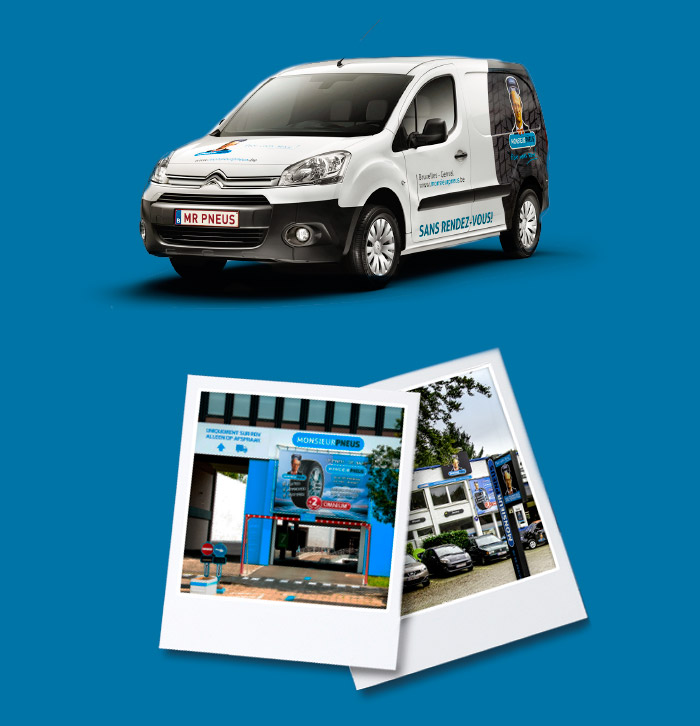 Comprehensive service
Along with tyre mounting, you can also count on us for wheel balancing, wheel alignment, tyre repair, straightening bent rims and even replacing brake pads or shock absorbers...
Always receive VIP service, even without an appointment
Un imprévu ? Une urgence ? En toute saison, vous pouvez faire appel à nous pour vous trouver la meilleure solution. Nous vous garantissons en permanence une intervention rapide et un service de qualité.
Make an appointment online
On the Monsieurpneus.be website, you can easily make an appointment for the day and time that suit you best.
Pick-up service
Save time for your colleagues. Our experienced drivers will come to collect the vehicle from your location and return it when the work has been completed.
Tyre Hotel
In our vast storage area, we store your seasonal tyres under the best conditions and with the greatest care.
Fleet reporting
Whenever you want and in line with your specific requests, we will send you all the data about services performed and the monitoring of your vehicles.
Invoicing according to your needs
According to your preference, we offer invoices for individual services or centralised invoicing.
Quotation
If you have a special request or would like a personalised quotation, don't hesitate to contact us, we are always available to help.


Monsieur Pneus is the number one tyre specialist in Brussels and the surrounding region.
Our experienced employees offer a comprehensive, impeccable service that goes far beyond just mounting tyres.
Whatever your needs, we will always offer the ideal solution for managing your fleet's tyres.